I'm married to a man who simply love pistachio. These are his favourite macarons!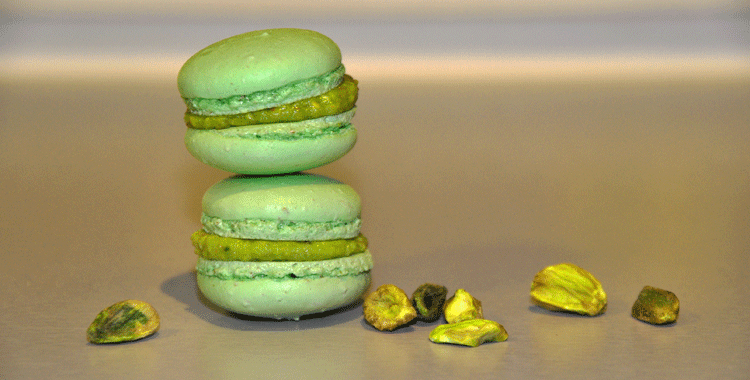 1 batch macarons made from the base recipe 
– 75 g (6 table spoons) egg whites
– 100 g (1/2 cup) white sugar
– 80 g (3/4 cup) almonds
– 20 g (1/4 cup) unsalted pistachios
– 100 g (1 cup) powdered sugar
Pistachio buttercream
– 80 g (3/4 cup) unsalted pistachios
– 20 g (1/4 cup) almonds
– 100 g (6 tablespoons) butter
– 60 g (1/2 cup) powdered sugar
Follow the base recipe making the macarons, but use 80 g almonds (instead of 100 g) along with 20 g pistachios. Add green (and yellow) concentrated food coloring to the mixture, while beating the egg whites. Bake and cool the macarons.
Grind pistachios and almonds in a blender or use a hand grinder if you want. Use a mixer to beat the butter and powdered sugar into a fluffy cream. Mix in the grinded nuts into the butter cream by hand.
When the butter cream has stiffened a bit (after some time in the fridge), you can start sandwich the macarons. Use a teaspoon, a knife or a piping bag, whichever you prefer: turn a macaron upside down, add 1/2-1 teaspoon of butter cream, and press the bottom of another macaron on top of it.
Place the macarons on a serving platter, serve them and enjoy!