It's been a few weeks since I posted a new recipe on the blog now. Summer vacation is over, and I have started to bake again :) After recipes with loads of fruits and berries throughout the summer, I think it is time for an autumn inspired recipe. Summer isn't over yet, but I hope you can tolerate some autumn spices now. These macarons have a rich taste of spiced tea, which blends well with the dark chocolate. Use a chai tea, Earl Grey, or another type of spiced tea.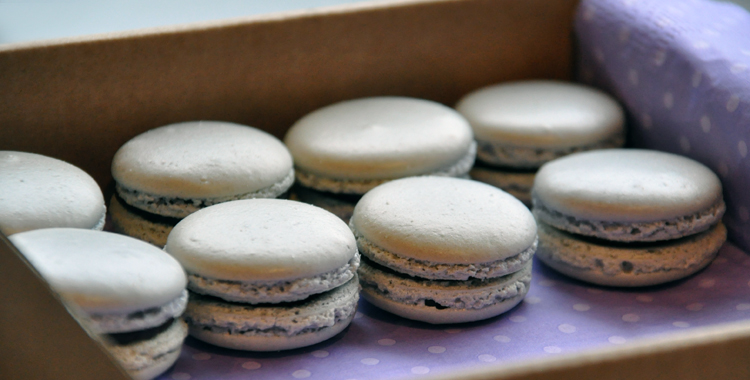 Macarons with chai tea
– 1 batch of macarons made from the base recipe
Chocolate ganache with chai tea
– 100 g (1/2 cup) dark chocolate chips
– 3/4 dl (1/2 cup) heavy cream
– 4 teaspoons of broken chai tea leaves (or another spiced tea)
– 2 tablespoons butter
Follow the base recipe making the macarons. Bake and cool the macarons.
Put the cream in a saucepan and bring it to a boil. Remove the pan from the heat, and add the tea. Let the tea steep in the cream for about 10 minutes. Strain the mixture through a tea strainer, and measure it again. The tea absorbs a bit of the cream, so make sure you have 1/2 dl (1/4 cup) left of tea infused cream. This is the amount you are going to continue on with in the recipe.
Combine the chocolate and the tea infused cream in a small pan. Heat the mixture on low heat until the chocolate has melted. Remove the pan from the heat and add the butter. Mix together and leave to cool.
When the ganache has thickened (after some time in the fridge), you can start sandwich the macarons. Use a teaspoon, a knife or a piping bag, whichever you prefer: turn a macaron upside down, add 1/2-1 teaspoon of chocolate ganache, and press the bottom of another macaron on top of it.
Place the macarons on a serving platter, serve them and enjoy!