If there is one macaron that is really famous and copied a lot, it must be the French pastry chef Pierre Hermé's macaron called Mogador. It is named after a city in Morocco, and has an exiting and exotic filling made out of passion fruit and milk chocolate. Do you think the combination sounds a bit odd? To that I can just say: you have to taste this one! The recipe underneath is my version of the macaron, but if you would like to try Hermé's own recipe you can find it in his book. You can get hold of the book for example through Amazon.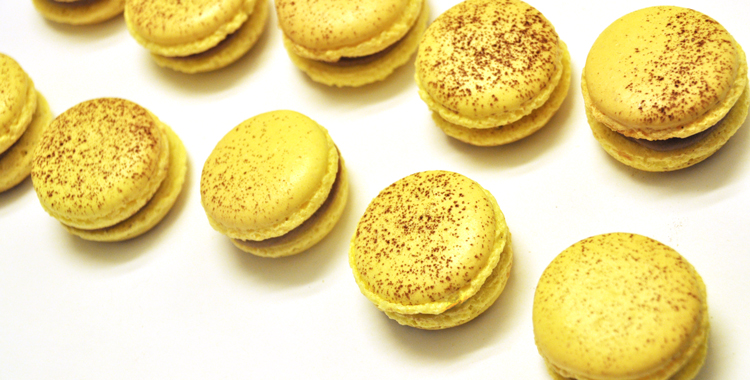 1 batch macarons made from the base recipe 
– 75 g (6 table spoons) egg whites
– 100 g (1/2 cup) white sugar
– 100 g (1 cup) almonds
– 100 g (1 cup) powdered sugar

Milk Chocolate Ganache with Passionfruit
– 100 g (1/2 cup) milk chocolate chips
– 1/2 dl (1/4 cup) passionfruit puree
– 2 tablespoons of butter
Follow the base recipe making the macarons. Add some concentrated yellow food coloring to the mixture, while beating the egg whites. Using a tea strainer, sprinkle the macarons with some cocoa powder, before you bake them. Bake and cool the macarons.
Combine chocolate and passion fruit puree in a small saucepan. Heat the mixture over low heat until the chocolate has melted. Remove the pan from the heat and add butter. Mix together and leave to cool.
When the ganache has thickened (after some time in the fridge), you can start sandwich the macarons. Use a teaspoon, a knife or a piping bag, whichever you prefer: turn a macaron upside down, add 1/2-1 teaspoon of ganache, and press the bottom of another macaron on top of it.
Place the macarons on a serving platter, serve them and enjoy!