Sweet and salty is a combination that fascinate many people. When I brought these macarons to work a few weeks ago, I received a lot of positive feedback on the salty taste along with the otherwise sweet macarons. These are flavors that really blends well!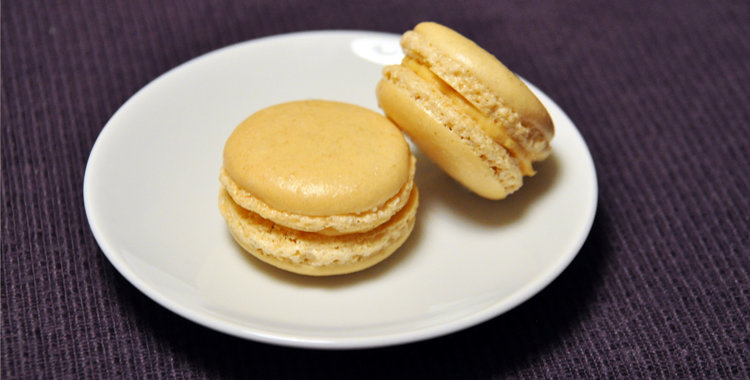 1 batch of macarons made from the base recipe
– 75 g (6 table spoons) egg whites
– 100 g (1/2 cup) white sugar
– 100 g (1 cup) almonds
– 100 g (1 cup) powdered sugar

Salty Caramel filling 
– 1dl (1/2 cup) heavy cream
– 75 g (1/3 cup) white sugar
– 1 teaspoon vanilla sugar
– 25 g (1,5 tablespoons) butter
– finger salt/salt flakes
Follow the base recipe making the macarons.
Heat the cream and vanilla sugar until it starts to boil, while you melt the sugar over medium to low heat in another saucepan. If the sugar starts to dry up and cluster, increase the heat and continue to stir gently. Wait until the sugar turns light brown (caramelize), and pour the hot cream gently into the sugar while stirring. Stir well until caramel lumps are dissolved, and cook the mixture until it reaches 112 degrees (233 degrees Fahrenheit). If you do not have a thermometer, boil the mixture for approx. 10 minutes.
Cool the caramel, and whisk in the butter. Beat well, before you taste it with salt. Crush the salt a bit between your fingers, but not too much. If you crush the salt to much, the distinctive salty taste disappears in the sweet caramel. I tried first with a few pinches of salt, but ended up with about 1/2 teaspoon salt until I was satisfied with the taste.
When the caramel has thickened even more (after some time in the fridge), you can start sandwich the macarons. Use a teaspoon, a knife or a piping bag, whichever you prefer: turn a macaron upside down, add 1/2-1 teaspoon of caramel, and press the bottom of another macaron on top of it.
Place the macarons on a serving platter, serve them and enjoy!