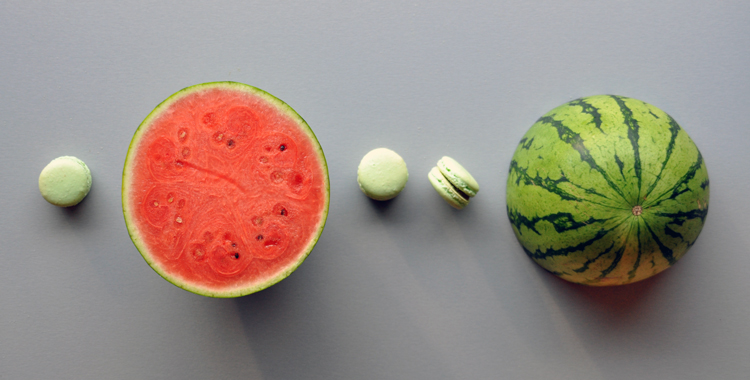 1 batch macarons made from the base recipe
– 75 g (6 table spoons) egg whites
– 100 g (1/2 cup) white sugar
– 100 g (1 cup) almonds
– 100 g (1 cup) powdered sugar
Watermelon jam
– 200 g (1 cup) watermelon
– 100 g (1/2 cup) white sugar
– 4 teaspoon lime juice
– 2 teaspoon gelatin powder
Follow the base recipe to make the macarons. Add green concentrated food coloring to the mixture, while beating the egg whites. Bake and cool the macarons.
Put gelatin powder in a bowl with 4 tablespoons lukewarm water. Mix, and let the gelatin swell slightly. Remove the pan from the heat and add the gelatin mixture. (You can use pectin instead of gelatin. Read on the package how much to use.) Stir well and leave to cool. If you would like the jam to have a purer pink colour, add a tiny amount of pink food coloring before cooling.
When the jam has turned thick (the best is to leave it in the fridge until the next day), you can start sandwich the macarons. Use a teaspoon, a knife or a piping bag, whichever you prefer: turn a macaron upside down, add 1/2-1 teaspoon of jam, and press the bottom of another macaron on top of it.
Place the macarons on a serving platter, serve them and enjoy!