Pineapple I eat all year long, but it is something special eating the fruit during summer. In this recipe I simply used whipped cream blended with fresh pineapple as a macaron filling. Fresh and rich at the same :)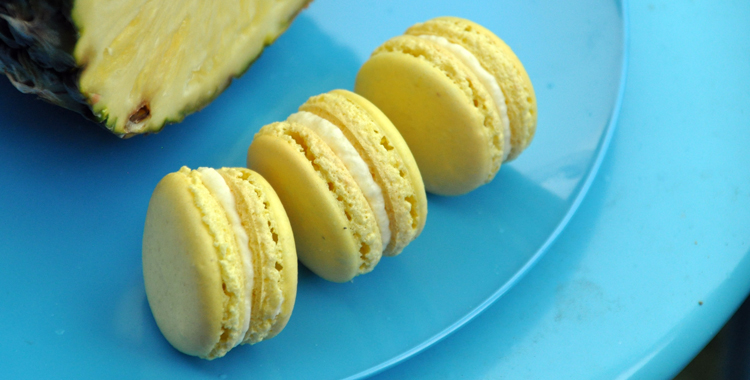 1 batch macarons
made from the
base recipe
– 75 g (6 table spoons) egg whites
– 100 g (1/2 cup) white sugar
– 100 g (1 cup) almonds
– 100 g (1 cup) powdered sugar
Pineapple cream
– 1 1/2 dl (1/2 cup) heavy cream
– 125 g (3/4 cup) pineapple
– 2 tablespoons white sugar
– 2 teaspoons lemon juice
– 2 sheets gelatin
Follow the
base recipe
to make the macarons. Add yellow concentrated food coloring to the mixture, while beating the egg whites. Bake and cool the macarons.Soak the gelatin sheets in cold water, while using a blender or a good hand blender to puree the pineapple. Heat up two tablespoons of water, and melt the gelatin in the water. Pour the gelatin in the puree while stirring. Cool completely.
Turn the heavy cream and sugar into whipped cream, and mix the pineapple puree gently into it.
When the cream has thickened a bit (after some time in the fridge), you can start sandwich the macarons. Use a teaspoon, a knife or a piping bag, whichever you prefer: turn a macaron upside down, add 1/2-1 teaspoon of the filling, and press the bottom of another macaron on top of it.
Place the macarons on a serving platter, serve them and enjoy!
If you would like to freeze these, it is best to do it without the filling and rather fill them an hour before consumption :)