In our house, I'm the only one who likes grapefruit, and I'm very fond of the fruit! When I'm a bit selfish, I come home with grapefruit juice from the store, knowing that I will have it all to myself. It was the same with these macarons ;)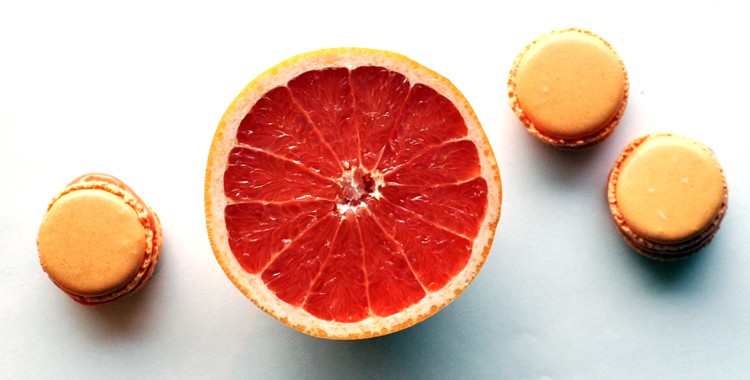 Grapefruit macarons
– 1 batch macarons made from the base recipe + 1 teaspoon grapefruit zest
Grapefruit curd
– 3 egg yolks
– 50 g (1/4 cup) sugar
– 1 teaspoon grapefruit zest
– 1/2 dl (1/4 cup) squeezed grapefruit juice
– 40 g (2 tablespoons) butter
Follow the base recipe making the macarons. Add the grapefruit zest and some concentrated orange food coloring to the mixture, while beating the egg whites. Bake and cool the macarons.
Mix all the ingredients for the curd in a small saucepan, except for the butter. Cook over low heat until the mixture thickens, constantly stirring. Remove the saucepan from the heat, allow to cool a bit, and then stir in the butter. Whisk well. If you want the curd to be pink, add a bit of pink food coloring.
When the curd has thickened (after some time in the fridge), you can start sandwich the macarons. Use a teaspoon, a knife or a piping bag, whichever you prefer: turn a macaron upside down, add 1/2-1 teaspoon of the curd, and press the bottom of another macaron on top of it.
Place the macarons on a serving platter, serve them and enjoy!