Summer is not over here in Norway! Although many have started working again, there is no reason to call August anything else than a summer month. Enjoy the warm days, and why not try a new macaron? This one was truly a tropical treat. I have had a can of litchis standing in the kitchen cupboard forever now. I have kind of never been able to use it for anything. I checked the expiration date, and decided that now I will make something out of this can. I most definitely don't regret it! If you can't find litchi in your local grocery store, try in vegetable shops with Asian products :)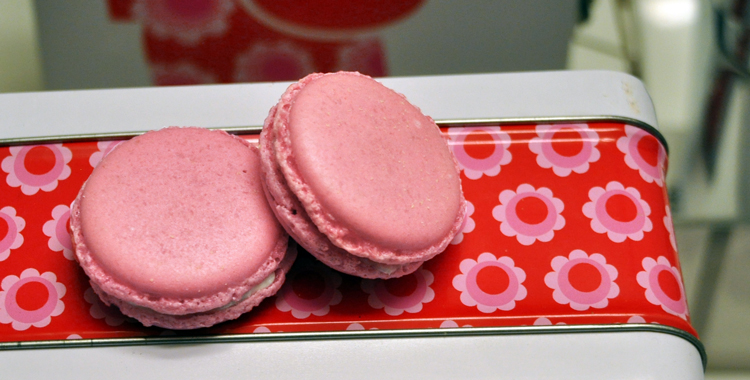 1  batch macarons made by the base recipe
– 75 g (6 table spoons) egg whites
– 100 g (1/2 cup) white sugar
– 100 g (1 cup) almonds
– 100 g (1 cup) powdered sugar
Chocolate and Litchi Ganache:
– 100 g (1/2 cup) white chocolate chips
– 1/2 dl (1/4 cup) litchi puree
Follow the base recipe to make the macarons. Add pink concentrated food coloring to the mixture, while beating the egg whites. Bake and cool the macarons.
Puree litchi using a hand blender. If you use fresh fruits, peel and remove the seeds before you puree them.
Combine litchi puree and chocolate in a small pan. Heat the mixture on low heat until the chocolate has melted. Mix together and leave to cool. If you want a more white filling, add some white food coloring to the mixture before you leave it to cool.
When the ganache has thickened (after some time in the fridge), you can start sandwich the macarons. Use a teaspoon, a knife or a piping bag, whichever you prefer: turn a macaron upside down, add 1/2-1 teaspoon of chocolate ganache, and press the bottom of another macaron on top of it.
Place the macarons on a serving platter, serve them and enjoy!