Here comes the last summer recipe. Autumn recipes are next, but first this simple recipe with peach yogurt. I had originally planned to make a filling of white chocolate mixed with peach yoghurt, but I ended up with an even simpler recipe. When I was grocery shopping I found only Greek yogurt with peaches in the store. Greek yogurt is a lot thicker than regular yogurt, so it struck me that it perhaps could be used as a filling straight from the cup? Wow, these turned into fresh macarons! Definitely something I will try again with different types of yogurt.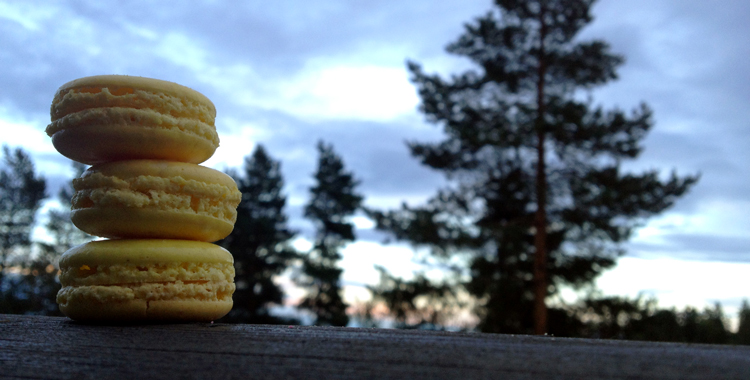 1  batch macarons made by the base recipe
– 75 g (6 table spoons) egg whites
– 100 g (1/2 cup) white sugar
– 100 g (1 cup) almonds
– 100 g (1 cup) powdered sugar
Youghurt filling
– Greek yoghurt with peach
Follow the base recipe to make the macarons. Add yellow concentrated food coloring to the mixture, while beating the egg whites. Bake and cool the macarons.
Get your peach yoghurt, and you can start sandwich the macarons. It is important that you use a thick Greek yoghurt, and not a regular yoghurt type. Use a teaspoon, a knife or a piping bag, whichever you prefer: turn a macaron upside down, add 1/2-1 teaspoon of yoghurt, and press the bottom of another macaron on top of it.
Place the macarons on a serving platter, serve them and enjoy!