In Norway it is autumn now, and in the woods you can find lingonberries! Have I picked some and made jam? No, I've only been to IKEA :) When we are there, my three year old daughter enjoys loads of meatballs in the restaurant and the lingonberry jam on the plate is used for dipping. This of course got me thinking about if the jam could be used as a macaron filling? I bought a glass, and it turned out great! The jam is fairly thick, and has a good lingonberry taste. This was an interesting and different macaron with a great taste of lingonberries.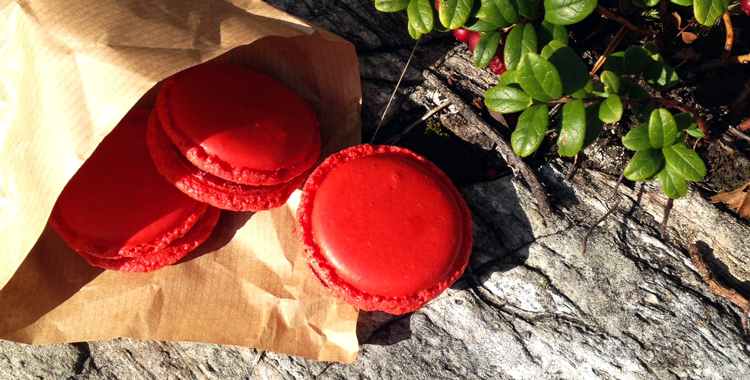 1 batch macarons made by the base recipe
– 75 g (6 table spoons) egg whites
– 100 g (1/2 cup) white sugar
– 100 g (1 cup) almonds
– 100 g (1 cup) powdered sugar
Lingonberry jam
– Lingonberry jam from IKEA or other thick lingonberry jam
Follow the base recipe to make the macarons. Add red concentrated food coloring to the mixture, while beating the egg whites. Bake and cool the macarons.
Use a teaspoon, a knife or a piping bag, whichever you prefer: turn a macaron upside down, add 1/2-1 teaspoon of jam, and press the bottom of another macaron on top of it.
Place the macarons on a serving platter, serve them and enjoy!