Want a different taste to your popcorn? Try popcorn macarons! This was an idea I got after I visited Hitchhiker in Oslo, and eat their popcorn ice cream. Often we enjoy salted popcorn here in Norway, but in many other places around the world they eat sweet popcorn or they caramelize it. For these macarons I have created a mix of the two worlds. I have used salted popcorn and mixed it into the filling; a sweet caramel. In addition, I decorated the macarons with salted popcorn before I baked them. Aren't they funny? When it comes to taste, these macarons must be one of my new favorites!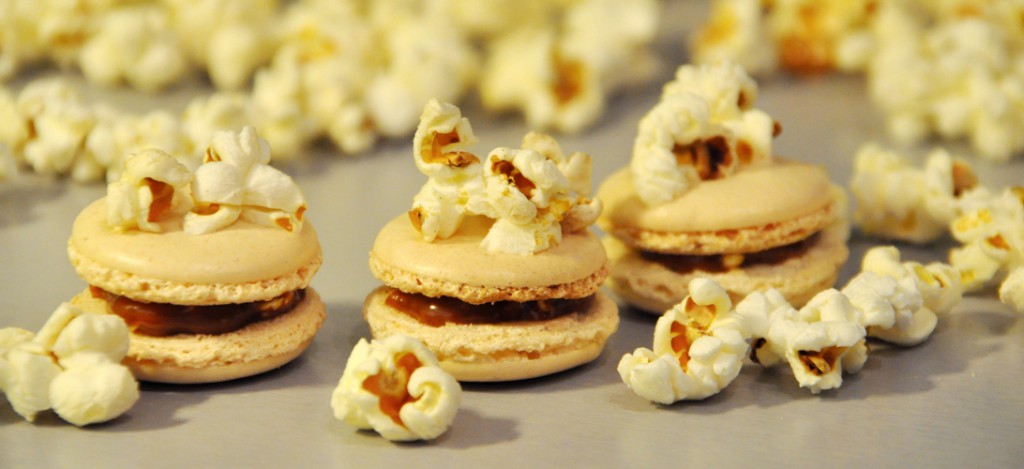 1 batch of macarons made from the base recipe
– 75 g (6 table spoons) egg whites
– 100 g (1/2 cup) white sugar
– 100 g (1 cup) almonds
– 100 g (1 cup) powdered sugar

Popcorn
– 50 g (1/4 cup) unpopped popcorn
– butter/oil
– salt
Caramel filling 
– 1dl (1/2 cup) heavy cream
– 75 g (1/3 cup) white sugar
– 1 teaspoon vanilla sugar
– 25 g (1,5 tablespoons) butter
– Popcorn
Prepare the popcorn following the instructions on the package, and salt it lightly. 50g will provide more than enough popcorn for this recipe, so enjoy a little while you are baking :)
Follow the base recipe making the macarons. If you want, add some concentrated food coloring to the mixture, while beating the egg whites. Before you bake the macarons, Place a couple of popcorn on halv of the macarons. Bake and cool the macarons.
Heat the cream and vanilla sugar until it starts to boil, while you melt the sugar over medium to low heat in another saucepan. If the sugar starts to dry up and cluster, increase the heat and continue to stir gently. Wait until the sugar turns light brown (caramelize), and pour the hot cream gently into the sugar while stirring. Stir well until caramel lumps are dissolved, and cook the mixture until it reaches 112 degrees (233 degrees Fahrenheit). If you do not have a thermometer, boil the mixture for approx. 10 minutes.
Remove the saucepan from the heat, and cool the caramel a bit, before you whisk in the butter. Take a fistful of popcorn and crush it with your fingers, while you sprinkle it onto the caramel. Whisk well.
When the caramel has thickened even more (after some time in the fridge), you can start sandwich the macarons. Use a teaspoon, a knife or a piping bag, whichever you prefer: turn a macaron upside down, add 1/2-1 teaspoon of caramel, and press the bottom of a macaron with popcorn on top of it.
Place the macarons on a serving platter, serve them and enjoy!