Gingerbread and other spiced foods are a part of Christmas tradition. These macarons have a chocolate ganache filling where the traditional Christmas spices have been added. If enjoying some of these doesn't give you the Christmas feeling, then I don't know.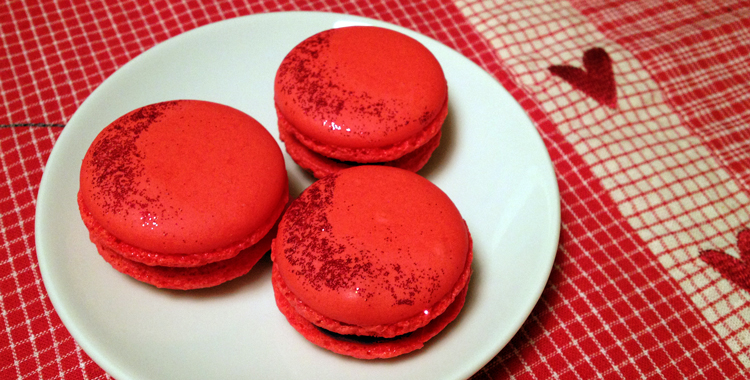 Macarons with Christmas Spices
– 1 batch macarons made from the base recipe
– (eatable glitter and sugar syrup for decorations)
 Chocolate ganache with Christmas Spices
– 100 g (1/2 cup) milk chocolate chips
– 1/2 dl (1/4 cup) heavy cream
– 2 tablespoons butter
– 1 teaspoon cinnamon
-1/2 teaspoon cardamom
– 1/4 teaspoon ginger
– a pinch of cloves
Follow the base recipe making the macarons. Add some concentrated red food coloring to the mixture, while beating the egg whites. Bake and cool the macarons.
If you want to decorate the macarons like in the picture, make syrup by heating 1 tablespoon water and 1 tablespoon sugar. Dip a small paintbrush into the syrup after it is cooled, then in the glitter and paint on the macarons as desired.
Combine chocolate and cream in a small pan. Heat the mixture on low heat until the chocolate has melted. Remove the pan from the heat and add the butter and spices. Mix together and leave to cool.
When the ganache has thickened (after some time in the fridge), you can start sandwich the macarons. Use a teaspoon, a knife or a piping bag, whichever you prefer: turn a macaron upside down, add 1/2-1 teaspoon of chocolate ganache, and press the bottom of another macaron on top of it.
Place the macarons on a serving platter, serve them and enjoy!