Today I helped a friend make macarons for the first time. She wanted a raspberry macaron, but preferably one that was not do difficult to make. My experience is that macarons with chocolate ganache filling are the easiest make, so we went for macarons with a raspberry ganache filling. Delicious, rich chocolate mixed with fresh raspberry is highly recommended. Here they are served with some pistachio ice cream :)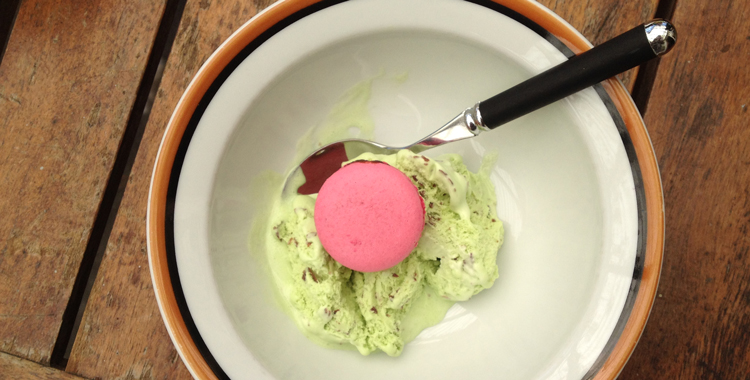 1  batch macarons made from the base recipe
– 75 g (6 table spoons) egg whites
– 100 g (1/2 cup) white sugar
– 100 g (1 cup) almonds
– 100 g (1 cup) powdered sugar
Chocolate and Raspberry Ganache:
– 100 g (1/2 cup) dark chocolate chips
– 100 g (1 cup) raspberries
15 fresh or frozen raspberries
Follow the base recipe to make the macarons. Add pink concentrated food coloring to the mixture, while beating the egg whites. Bake and cool the macarons.
Squeeze raspberries through a sieve or tea strainer to remove all seeds. Pour the puree into a saucepan and bring to a boil. Let the mix boil until it is reduced to half amount. While the mix boils, cut the fresh or frozen raspberries in halves.
Combine chocolate and 1/2 dl (1/4 cup) raspberry puree in a small pan. Heat the mixture on low heat until the chocolate has melted. Mix together and leave to cool.
When the ganache has thickened (after some time in the fridge), you can start sandwich the macarons. Use a teaspoon, a knife or a piping bag, whichever you prefer: turn a macaron upside down, add 1/2-1 teaspoon of chocolate ganache, add halv a raspberry, and press the bottom of another macaron on top of it.
Place the macarons on a serving platter, serve them and enjoy!