Bananas are a great fruit to cook with, but I must say I was a little unsure on how to turn the fruit into a macaron filling. Nevertheless, I wanted to test out banana macarons. I based the filling on chocolate. White chocolate is fairly neutral, and the banana flavor comes through clearly. This was not a stupid idea at all. Deserves a smiley :D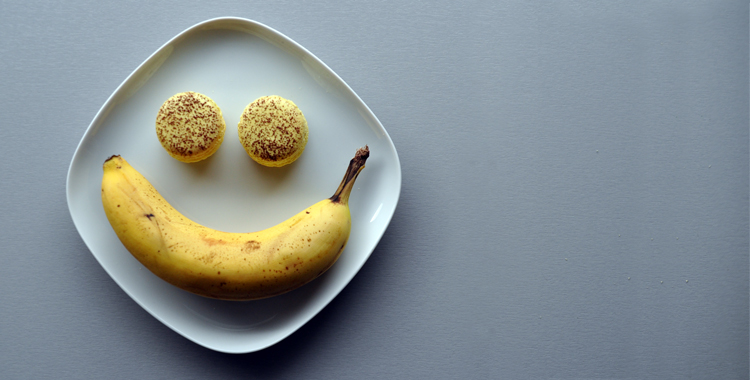 1 batch macarons made from the base recipe
– 75 g (6 table spoons) egg whites
– 100 g (1/2 cup) white sugar
– 100 g (1 cup) almonds
– 100 g (1 cup) powdered sugar
Banana ganache
– 100 g (1/2 cup) white chocolate chips
– 30 g  (1/4 cup) banana
– 2 tablespoons banana yoghurt
– 1 teaspoon lemon juice
Follow the base recipe to make the macarons. Add yellow concentrated food coloring to the mixture, while beating the egg whites. Using a tea strainer, sprinkle the macarons with some cocoa powder, before you bake them. Bake and cool the macarons.
Mash the banana with a fork. Combine chocolate, yoghurt and lemon juice in a small saucepan. Heat the mixture over low heat until the chocolate has melted. Remove the saucepan from the heat and add the banana. Mix together and leave to cool. If you would like a yellow colour to the filling, add a tiny amount of food coloring before cooling.
When the ganache has thickened a bit (after some time in the fridge), you can start sandwich the macarons. Use a teaspoon, a knife or a piping bag, whichever you prefer: turn a macaron upside down, add 1/2-1 teaspoon of the filling, and press the bottom of another macaron on top of it.
Place the macarons on a serving platter, serve them and enjoy!