Christmas is getting close! I bake a lot these days, and finally I got time to bake some macarons as well. Inspired by chistmas traditions, I have made some gingerbread macarons. I have used the traditional spices both in the macaron and in the filling. These turned out great, and the gingerbread flavor is clear and spiced. Want to try some alternative gingerbread cookies this year? Try these :D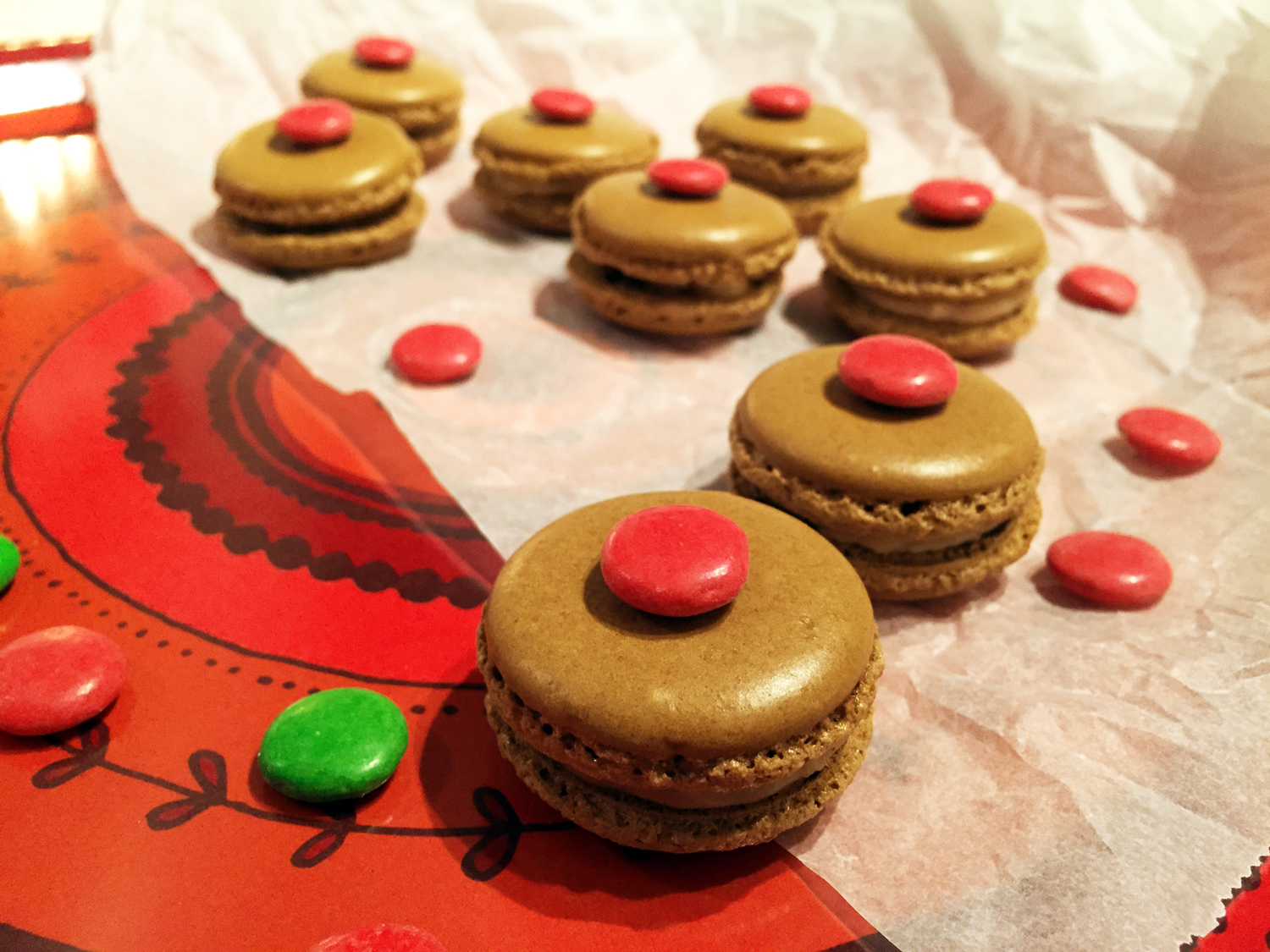 1 batch macarons made from the base recipe
– 75 g (6 table spoons) egg whites
– 100 g (1/2 cup) white sugar
– 100 g (1 cup) almonds
– 100 g (1 cup) powdered sugar
+ 1/2 teaspoon cinnamon, 1/4 teaspoon cardamom, a pinch of ginger and a pinch of cloves
 Chocolate ganache with Gingerbread Spices
– 100 g (1/2 cup) white chocolate chips
– 1/2 dl (1/4 cup) heavy cream
– 2 tablespoons butter
– 1 teaspoon cinnamon
-1/2 teaspoon cardamom
– 1/4 teaspoon ginger
– a pinch of cloves
Decoration
– White chocolate
– Smarties/m&m's or similar
Follow the base recipe making the macarons. Add the spices and some concentrated brown food coloring to the mixture, while beating the egg whites. Bake and cool the macarons.
Combine chocolate and cream in a small pan. Heat the mixture on low heat until the chocolate has melted. Remove the pan from the heat and add the butter and spices. Mix together and leave to cool.
When the ganache has thickened (after some time in the fridge), you can start sandwich the macarons. Use a teaspoon, a knife or a piping bag, whichever you prefer: turn a macaron upside down, add 1/2-1 teaspoon of chocolate ganache, and press the bottom of another macaron on top of it.
If you want to decorate your macarons, melt some white chocolate and add a drop of it to the top of the macarons. Top it with a m&m or similar chocolate.
Place the macarons on a serving platter, serve them and enjoy! Merry Christmas!