Licorice, licorice, licorice! I love licorice! Will it not be strange with licorice and macarons? No, not at all. In this recipe, I've created a simple filling made of licorice fudge. You know, those big black caramels. Melt these in the microwave along with some cream and you get a thick, rich and flavorful cream to fill your macarons with. Simple and super yummy!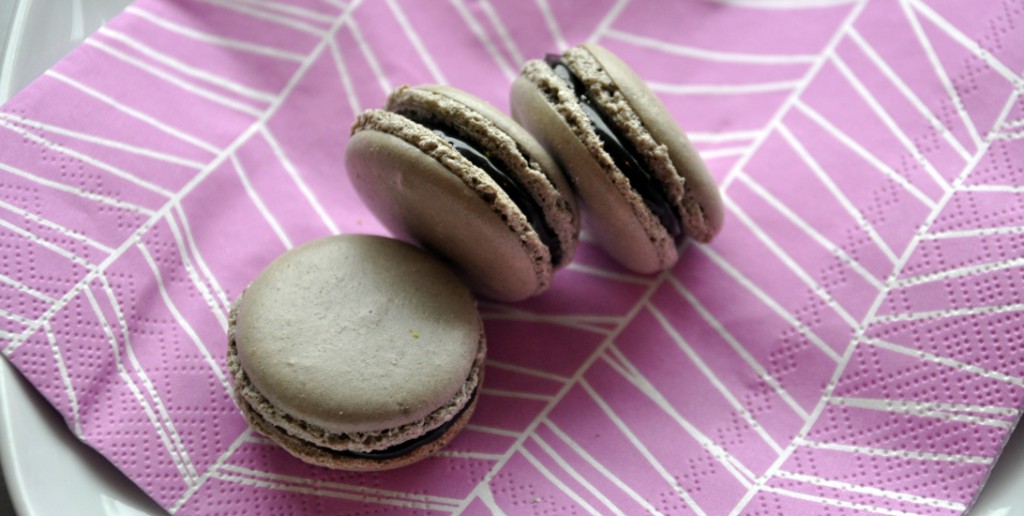 1 batch macarons made from the base recipe 
 – 75 g (6 table spoons) egg whites
–  100 g (1/2 cup) white sugar
–  100 g (1 cup) almonds
–  100 g (1 cup) powdered sugar

 Licorice fudge filling
– 150 g (around 10 cubes) licorice fudge
– 1/2 dl (1/4 cup) heavy cream
Follow the base recipe making the macarons. Add some concentrated black food coloring to the mixture, while beating the egg whites. Bake and cool the macarons.
Combine licorice fudge and cream in a bowl. Run for 30 Seconds in the microwave. Stir and run for another 30 seconds. Continue this until all the fudge has melted. Mix together and leave to cool.
When the filling has thickened (after some time in the fridge), you can start sandwich the macarons. Use a teaspoon, a knife or a piping bag, whichever you prefer: turn a macaron upside down, add 1/2-1 teaspoon of licorice filling, and press the bottom of another macaron on top of it.
Place the macarons on a serving platter, serve them and enjoy!