On Saturday it is Valentine's Day. Do you have someone special you want to show some extra attention this day? Vanilla macarons is a classic, and with some extra decore these are perfect for every occasion. I have decorated mine with chocolate hearts I have piped onto chocolate transfer sheets (I bought mine here) and then attached them with some melted chocolate. You can of course make hearts without chocolate transfers sheets, for exsample on parchment paper, or decorate directly on the macarons with melted chocolate. Your imagiation is the limit. Happy Valentine's Day!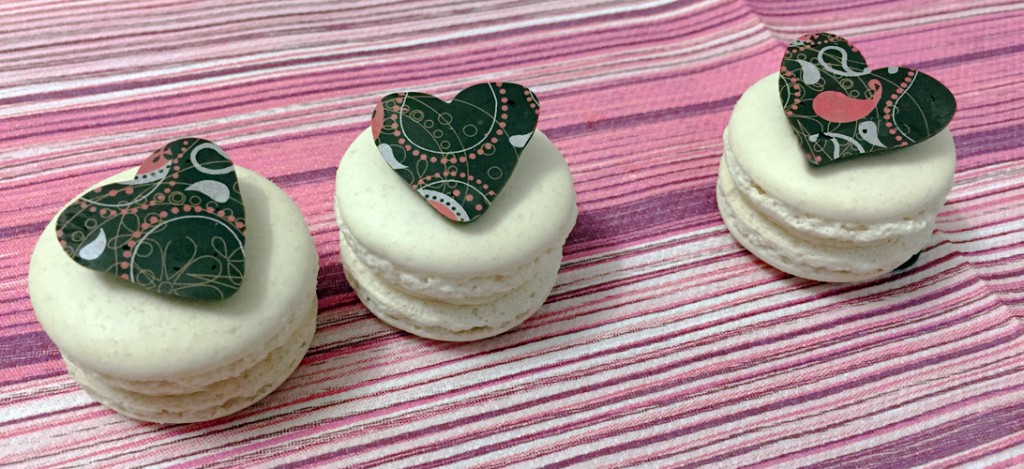 Vanilla Macarons
1 batch macarons made from the base recipe 
– 75 g (6 table spoons) egg whites
–  100 g (1/2 cup) white sugar
–  100 g (1 cup) almonds
–  100 g (1 cup) powdered sugar

Meringue Buttercream with Vanilla
– 1 egg white
– 1/2 dl (1/2 cup) sugar
– 60 g (3,5 tablespoons) butter
– 1/2 Vanilla bean
Follow the base recipe making the macarons. Bake and cool the macarons.
Beat egg whites and sugar until it turns into stiff meringue peaks. (If you live in a country where you should be careful eating raw eggs, you should heat the egg whites before you beat them. Place both sugar and egg whites in the heat-proof bowl and set the bowl over a pan of gently simmering water. Whisk until sugar has dissolved and egg whites have turned hot, before you beat them.)
Add the butter to the meringue, little by little while whisking. Whisk long for each time you add butter, and if the mixture separates, continue whisking. Whisk for a couple of minutes, and the problem should fix itself. Add the seeds for the Vanilla bean, and whisk another minute or two.
Put the buttercream in the fridge for a couple of minutes before you start sandwich the macarons. Use a teaspoon, a knife or a piping bag, whichever you prefer: turn a macaron upside down, add 1/2-1 teaspoon of buttercream, and press the bottom of another macaron on top of it.
If you want to decorate the macarons like I have, melt some dark chocolate and put it in a piping bag. Pipe out small hearts on chocolate transfer sheets, or easier: pip heats direcly onto the macarons.
Place the macarons on a serving platter, serve them and enjoy!