There has been little new to report on the blog the recent months. I have been busy, so blogging has been put a bit on hold. I will see if I can change that in the coming weeks. The autumn is here in Norway, and Christmas is approaching actually. Before we get that far, I plan to post a few recipes from this summer. First a delightful, fresh lemon macaron. I have made a filling based on white chocolate. The mild chocolate makes the lemon come perfectly throught. Not too sour, but really fresh and clear lemon flavor. I can definitely recommend these if you are fond of citrus.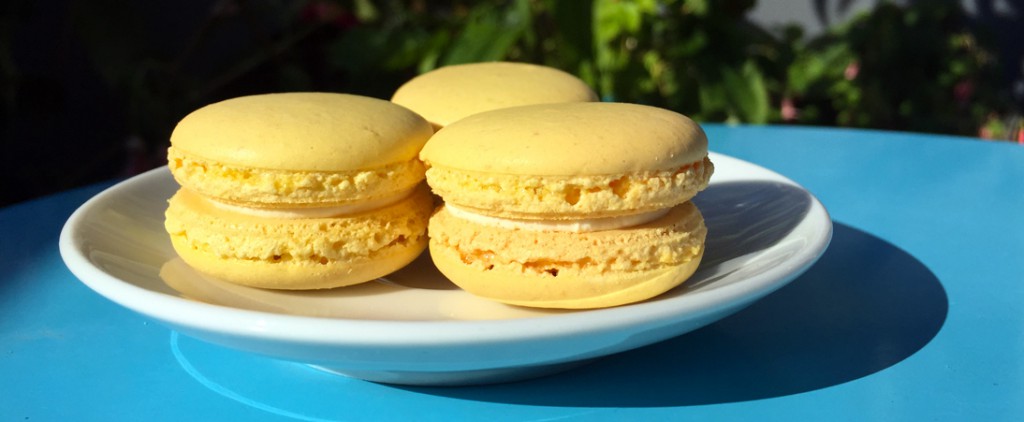 1  batch macarons made by the base recipe
– 75 g (6 table spoons) egg whites
– 100 g (1/2 cup) white sugar
– 100 g (1 cup) almonds
– 100 g (1 cup) powdered sugar
Chocolate and Lemon Ganache:
– 100 g (1/2 cup) white chocolate chips
– 1/2 dl (1/4 cup) lemon juice
Follow the base recipe to make the macarons. Add yellow concentrated food coloring to the mixture, while beating the egg whites. Bake and cool the macarons.
Combine lemon juice and chocolate in a small pan. Heat the mixture on low heat until the chocolate has melted. (You could use the microwave, but be careful. Use low effect and stir well after 30 seconds, before continuing.) Mix together and leave to cool. If you want a more white filling, add some white food coloring to the mixture before you leave it to cool.
When the ganache has thickened (after some time in the fridge), you can start sandwich the macarons. Use a teaspoon, a knife or a piping bag, whichever you prefer: turn a macaron upside down, add 1/2-1 teaspoon of chocolate ganache, and press the bottom of another macaron on top of it.
Place the macarons on a serving platter, serve them and enjoy!